INiTS | Vienna's High-Tech Incubator
Since its foundation in 2002, INiTS has established itself as the high-tech business incubator of the City of Vienna and one of the best academic incubators worldwide. With its "Collaborative Business Modelling" approach, tailor-made consulting and training services, STARTKapital of up to €100,000 and a tightly woven partner network, INiTS supports high-performing start-ups in research, technology and innovation (FTI) and has become a driving force in the Austrian start-up ecosystem. This is reflected in an impressive track record of successful start-ups with above-average growth and employment figures, which clearly demonstrate the innovative power of the economic region.
INiTS is the Vienna Business Incubator for innovative research/technology-based startups with high growth potential. We support academic institutions in technology commercialization and the establishment of new spin-off companies and develop spin-offs from all research institutions in Vienna. Our shareholders are the University of Vienna, the Vienna University of Technology and the Vienna Business Agency.
START:IP is a technology marketplace where research results are offered and entrepreneurs can commercialize selected, hand-picked technologies from academic or industrial research.
AplusB SCALEup with the Startup Camp is an internationally awarded incubation program in which promising business models are developed with selected high-tech startups. In addition, we support their growth through financing and networking.
STARTKapital is a smart financing instrument that secures up to € 100,000 risk-free equity capital for SCALEup startups at a very early stage.
Health Hub Vienna is an acceleration program for international health/life sciences startups in the growth phase with the aim of accelerating innovations in the health economy in Europe.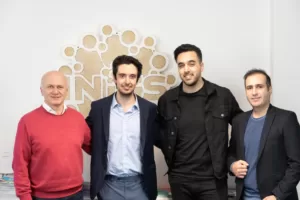 myResQ: Revolutionizing Emergency Response with High-Tech Smart Glasses In emergencies, every second counts. However, people who are the first on the scene often have
Weiterlesen »
Health Innovation Summit Vienna on June 6th is the leading event about transforming the healthcare system through Innovation, Collaboration and Entrepreneurship. We are discussing the status
Weiterlesen »
Health Innovation Summit Vienna on June 6th is the leading event about transforming the healthcare system through Innovation, Collaboration and Entrepreneurship. We are discussing the status
Weiterlesen »
We ARE PROUD OF OUR startups!
APEPTICO
APEPTICO develops peptide-based products targeting chronic and life-threatening diseases. By focusing on synthetically produced protein structures, common risks associated with gene and cell technologies are avoided. The PEPBASE(TM) and PEPSCREEN(TM) platforms significantly reduce costs and shorten time to market.
Blue Danube Robotics
Blue Danube Robotics was founded in 2013 and produces safety solutions for the cooperation of humans and robots in mass production to make robots safe for humans and thus more efficient. The patented AIRSKIN® is a robust, pressure-sensitive skin that is easily mounted directly onto the robot. It is available for almost any robot and application and is the only solution for End of Arm Tooling (EOAT)."
ECOP
ecop is a technology company that manufactures rotary heat pumps for industrial use using a novel, multi-patented technology. In this way, ecop supports companies in recovering energy, protecting the environment and saving costs.
FLUIDTIME
With qando, the number 1 route planner for public transport in Austria, Fluidtime developed the first real app in 2009 as we know it today. A total of around 15 million queries are counted per month in the participating cities. With Vienna, Graz, Salzburg, Linz and Klagenfurt, the app is in use in five of Austria's nine federal states. This makes qando one of the most successful apps in Austria. Today, Fluidtime is an internationally significant technology provider in the field of Mobility-as-a-Service (MaaS).
Foodnotify
FoodNotify started with FoodNotify recipe management and the food database behind it - including fully automated labeling of allergens, nutrients and additives for easy compliance with the Food Information Regulation (LMIV) and today focuses on the comprehensive digitization of the food service industry.
KiwiSecurity
KiwiSecurity is the leading manufacturer of video analytics and video control center solutions that transform video surveillance into a proactive tool. By intelligently analyzing relevant image information, video surveillance is automated for the first time. KiwiSecurity's unique and patented product "KiwiVision® Privacy Protector®" allows video surveillance in strict compliance with the European Data Protection Directives.
LexoGen
Lexogen is a biotech company focused on RNA and whole transcriptome studies using Next Generation Sequencing technologies. The technologies and products developed since 2007 are used by thousands of scientists around the world.
LITHOZ
Lithoz specializes in the development and manufacture of materials and generative manufacturing systems for the 3D printing of bone graft substitutes and advanced ceramics. The founders Dr. Johannes Homa and Dr. Johannes Benedikt have built up extensive expertise in the field of generative manufacturing of advanced ceramics through their many years of research work at the Vienna University of Technology. In 2011, they founded Lithoz GmbH as a spin-off of TU Wien.
Marinomed
Marinomed is a biopharmaceutical company developing innovative products in the field of respiratory and ophthalmic diseases based on patent-protected technology platforms. The Carragelose® platform comprises innovative patent-protected products for the treatment of viral infections of the respiratory tract. The Marinosolv® platform enhances the efficacy of poorly soluble active ingredients specifically for the treatment of sensitive organs such as the eyes and nose. The company was founded in 2006 and has been listed on the Vienna Stock Exchange since 2019.
Medicus
Medicus AI is an intelligent platform and app that interprets medical reports and health data and translates them into easy-to-understand, personalized explanations and health insights. Medicus AI's intelligent coaching provides health tips and actionable steps to build sustainable healthy habits.
mySugr
The mySugr team has developed a diabetes app in collaboration with doctors and psychologists to replace the necessary but unpopular diabetes diary and improve the quality of life of those affected. The mySugr app is a certified medical device and carries the CE mark. mySugr was founded in 2012 and acquired by Roche in 2017 with more than 100 employees and over one million users.
ONDEWO
ONDEWO aims to revolutionize the way machines and humans communicate. The sophisticated call center AI provides a high-quality and automated interaction that improves the customer experience, relieves employees and increases efficiency.
PHENARIS
Phenaris is a spin-off of the Pharmacoinformatics Research Group at the University of Vienna and deals with all aspects of molecular modeling with a focus on drug transporters, data mining and in-silico toxicology. The team translates its more than 20 years of experience in cheminformatics and data science into concrete products to support toxicologists and medicinal chemists in their daily work.
Printstones
Printstones focuses on developing 3D printing and digital on-demand production processes and solutions for concrete and other cementitious materials. The company has developed a robotic 3D printing solution and a digital on-demand production system.
Shpock
Since 2012, Shpock has become one of the largest and fastest growing mobile-first classifieds marketplaces. The goal was to provide a platform where second hand buying and selling is easy and fun, and beautiful used things don't end up in the trash. Shpock was acquired by Schibsted, one of the long-established giants in the classifieds sector.
SIMCharacters
To improve the outcomes of more than 15 million premature births per year, neonatologist Dr. Jens Schwindt founded SIMCharacters in 2012. With Paul, the training simulator, SIMCharacters takes the next step into the future of medical simulation. 
Themis Bioscience
Themis has focused on vaccines and immunomodulation therapies for infectious diseases and cancer through its measles virus vector platform. The company was acquired by MSD, a subsidiary of US-based Merck & Co, Inc.
Tubolito
The two technicians Christian Lembacher (chemist) and Akos Kertesz (mechanical engineer) are the founders of Tubolito. Starting from a durable, lightweight and robust material for speaker membranes in the smartphone industry, the two developed a unique technology to produce high-tech bicycle tubes from a special thermoplastic elastomer.
UBIMET
Today's international weather service UBIMET, with headquarters in Vienna, Austria, is the competence center for meteorology and severe weather warnings. Founded by Dr. Michael Fassnauer and Manfred Spatzierer, UBIMET has become one of the largest and fastest growing independent providers of meteorological.
usePAT
usePAT is a provider of accurate measuring solutions. With a patented ultrasonic technology, well-controlled ultrasonic fields are used for spatial particle manipulation in liquids to improve measurements in industrial fluids.
Zoovu
Zoovu is the leading technology provider for AI Conversational Search. Companies around the world use Zoovu to increase their reach, drive revenue, and gain valuable insights into customer behavior. As a proven enterprise software, Zoovu solves the problem of low conversions on digital channels and drives future growth.
INiTS has been awarded several times by UBI Global as one of the world's best university business incubators and is number one in the German-speaking countries.
Mio. EURO
acquired equity
Mio. Euro
acquired grants
© INiTS Universitäres Gründerservice Wien GmbH