myResQ: Revolutionizing Emergency Response with High-Tech Smart Glasses
In emergencies, every second counts. However, people who are the first on the scene often have difficulties or inhibitions about providing help quickly – often for fear of doing the wrong thing. With myResQ, this is changing. The tech is developing easy-to-use, wearable, high-tech smart glasses that provide first responders with instructions on the right measures to take and at the same time provide the emergency control centre with important information.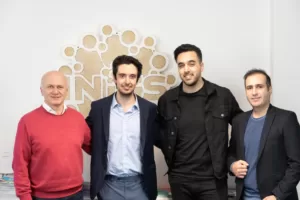 Scaling New Heights with the SCALEup Incubation Program In 2022, myResQ participated in the SCALEup Incubation Program. This experience proved transformative for the startup, enabling the team to gain a clear vision for their company and refine their business model. The program provided valuable mentorship and offered the opportunity to perfect their pitching skills. Consequently, myResQ can now succinctly explain their mission in just 3-5 minutes in a clear and structures way, a significant improvement from their previous lengthy explanations that were more like "beating around the bush".
Dr. Schahrouz Kakavand: A Passionate Founder An essential part of myResQ is the vision and passion of Dr. Schahrouz Kakavand, one of the founders of the tech startup. Combining his medical expertise with entrepreneurial spirit, Schahrouz recognised the urgent need for an innovative emergency solution. Determined to make a difference, he turned his idea into reality. Together with his brother, Schahnam Kakavand, he foundedthe startup myResQ. It's goal is to save precious, life-saving minutes in critical situations and achieve far-reaching, systematic savings in resources and costs.
Overcoming Challenges: From Learning to Doing The journey of myResQ has not been without hurdles, particularly in the development of their prototype and accompanying software. While the team comprises a doctor, a graphic designer, and a software developer, none possessed the technical expertise required for smart glasses production. However, driven by their determination, they embraced a self-learning approach, relying on YouTube tutorials, wikis, and hardware forums. This resourcefulness allowed them to acquire the necessary knowledge and skills, showcasing their unwavering commitment to their vision.
Smart glasses: A breakthrough solution for first responders myResQ has already developed the prototype of a state-of-the-art wearable smart glasses, especially for first responders. These smart glasses are designed to provide first responders with real-time information and enable them to react quickly and efficiently to acute accidents and emergency situations, potentially saving lives.
Investment from INiTS: Fueling Progress and Innovation During the growth phase of the SCALEup Incubation Program, tech-startups have the opportunity to obtain STARTKapital of up to EUR 100,000. myResQ took advantage of this opportunity and successfully secured a financial injection, which will facilitate the startup's remarkable work on the project. This investment is not only a vote of confidence in myResQ, but also a testament to the startup's exceptional commitment and potential.
Trustworthy: This startup has potential
INiTS is not the only organization supporting myResQ. The startup is currently collaborating with A1, which provides them with an office, necessary infrastructure, and access to important distribution channels.
We are proud of myResQ and excited to see where their journey takes them.
Website: https://my-resq.com
Follow myResQ on
LinkedIn: https://www.linkedin.com/company/myresq/
Facebook: https://www.facebook.com/myresq/
Instagram: https://www.instagram.com/myresq.official/