INiTS | Vienna's High-Tech Incubator
Since its foundation in 2002, INiTS has established itself as the high-tech business incubator of the City of Vienna and one of the best academic incubators worldwide. With its "Collaborative Business Modelling" approach, tailor-made consulting and training services, STARTKapital of up to €100,000 and a tightly woven partner network, INiTS supports high-performing start-ups in research, technology and innovation (FTI) and has become a driving force in the Austrian start-up ecosystem. This is reflected in an impressive track record of successful start-ups with above-average growth and employment figures, which clearly demonstrate the innovative power of the economic region.
INiTS is the Vienna Business Incubator for innovative research/technology-based startups with high growth potential. We support academic institutions in technology commercialization and the establishment of new spin-off companies and develop spin-offs from all research institutions in Vienna. Our shareholders are the University of Vienna, the Vienna University of Technology and the Vienna Business Agency.
START:IP is a technology marketplace where research results are offered and entrepreneurs can commercialize selected, hand-picked technologies from academic or industrial research.
AplusB SCALEup with the Startup Camp is an internationally awarded incubation program in which promising business models are developed with selected high-tech startups. In addition, we support their growth through financing and networking.
STARTKapital is a smart financing instrument that secures up to € 100,000 risk-free equity capital for SCALEup startups at a very early stage.
Health Hub Vienna is an acceleration program for international health/life sciences startups in the growth phase with the aim of accelerating innovations in the health economy in Europe.
We ARE PROUD OF OUR startups!
MARINOMED
Marinomed is a biopharmaceutical company that develops innovative products in the field of respiratory and eye diseases on the basis of patent-protected technology platforms. The Carragelose® platform comprises innovative, patent-protected products for the treatment of viral infections of the respiratory tract. The Marinosolv® platform increases the efficacy of poorly soluble active ingredients especially for the treatment of sensitive organs such as the eyes and nose. The company was founded in 2006 and is listed on the Vienna Stock Exchange since 2019.
MYSUGR
The mySugr team has developed a diabetes app in cooperation with doctors and psychologists to replace the necessary but unpopular diabetes diary and improve the quality of life of those affected. The mySugr App is a certified medical device and carries the CE mark. mySugr was founded in 2012 and acquired by Roche in 2017 with more than 100 employees and over one million users.
LITHOZ
Lithoz specializes in the development and manufacture of materials and generative manufacturing systems for 3D printing of bone replacement materials and advanced ceramics. The founders, Dr. Johannes Homa and Dr. Johannes Benedikt, have built up extensive expertise in the field of generative manufacturing of high-performance ceramics through their many years of research work at the Vienna University of Technology. In 2011 they founded Lithoz GmbH as a spin-off of the Vienna University of Technology.
PHENARIS
Phenaris is a spin-off of the Pharmacoinformatics Research Group at the University of Vienna and deals with all aspects of molecular modelling with a focus on drug transporters, data mining and in-silico toxicology. The team translates its more than 20 years of experience in chemical informatics and data science into concrete products to support toxicologists and medicinal chemists in their daily work.
FLUIDTIME
With qando, the number 1 route planner for public transport in Austria, Fluidtime developed in 2009 the first real app as we know it today. A total of around 15 million queries are counted per month in the participating cities. With Vienna, Graz, Salzburg, Linz and Klagenfurt, the app is in use in five of nine Austrian provinces. Thus qando is one of the most successful apps in Austria.
BLUE DANUBE ROBOTICS
Blue Danube Robotics was founded in 2013 and produces security solutions for human/robot collaboration in mass production. These make robots safe for humans and therefore more efficient for companies. Blue Danube Robotics' patented AIRSKIN® is a robust, pressure-sensitive skin that is easily and directly mounted on the robot. It is available for almost every robot and every application and is the only solution for End of Arm Tooling (EOAT).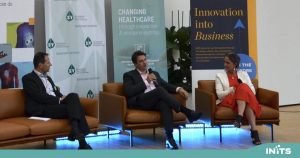 The Health Hub Vienna Innovation Day on September 17, 2020 presented itself as a platform for an explosive topic: Should solutions "forced" by COVID-19 be
Weiterlesen »
START:IP brings technology providers and technology seekers together in order to develop the technology to market maturity in a suitable cooperation. In a recent survey
Weiterlesen »
ClimateLaunchpad is the world's largest ideas competition for sustainable entrepreneurship. INiTS is a cooperation partner of ClimateLaunchpad Austria, whose annual program concluded on August 14
Weiterlesen »
INiTS has been awarded several times by UBI Global as one of the world's best university business incubators and is number one in the German-speaking countries.
Mio. EURO
acquired equity
Mio. Euro
acquired grants
© INiTS Universitäres Gründerservice Wien GmbH